knowledge to change the world
Meet Dr. Atamjyot Rao, who is one of our teacher's and also DIP area franchise holder.After completing her Doctorate in Chemistry, Dr. Atamjyot started her career as Researcher at Punjab University. She went on to becoming a Senior Research Associate at IIT Delhi. After which she moved to Dubai with her family in 2007, as she was searching for an opportunity to combine her passion for teaching and love for children, she began her Abacus training. After many years as a teacher, she took over the Sharjah franchisee upon creating of Ideal Play Abacus under Mrs. Mangala Ma'am. Over 7 years, she grew the Sharjah franchisee to over a 100 students along with 4 teachers. She has now moved to DIP, Jebel Ali where she's running a new franchise with as much dedication and passion.
It's time to meet our next teacher and franchise holder Mrs. Asma Iqbal Alam.Asma Iqbal Alam did her Bachelors in Business studies, majoring in accounts from University of Bahrain. And interior designing diploma from CEE, Dubai.
A home maker for the last 30 years, she developed an interest in Abacus and Vedic Math and now for the last 5 years it's become a passion that excites her everyday.
She is also  the Sharjah franchise holder for the last 2 years and is doing a remarkable job at growing it.
Sonya Bhagchandani did her M.Sc Mathematics, in Barkatullah University, Bhopal MP. She then did her B.Ed in Rani Durgavati University, Jabalpur MP. She taught Math in various schools in India, from the year 2001 till 2007.As the years went by, her love for Math just kept getting stronger. She always wanted to make kids fall in love with Math just like she did. Hence she joined IDEAL PLAY ABACUS and completed her graduation in Abacus teaching with us.
2009 is when she started teaching at IPA and now she is the  FRANCHISEE OF IPA  ABUDHABI.We absolutely adore her dedication, hard work and enthusiasm towards teaching abacus, every single day!
Her passion does not stop at Math, she has various other talents, few being Art & Craft, Calligraphy, different forms of art like Mandala, Zentangle and Pencil Shading.
She also has an amazing experience of conducting various extra curriculum activities, camps and workshops. The kids love her, The parents love her and We love her !
We are thrilled to have her as a  part of our wonderful team!
Ms Vinita Ramasamy completed her Masters in Education from Calcutta University. She taught English in Arab schools in Oman. After which she moved to Dubai in 2005 and completed her M.Sc in Applied Psychology and the Registered Behavior Technician certification and worked with the special needs population at a Centre in Dubai. After which she did her certification course as a Guidance and Counselor for career counselling and cognitive psychology. Then became the Brain Checker Franchisee for UAE. She has helped numerous students identify and explore career options, make informed decisions about their future and develop strategies to achieve their goals. She is passionate about helping children attain their potential and have a successful career. Parallely she continues to work with the special needs population and has recently completed her Board Certified Assistant Behavior Analyst certification. She is dedicated and motivated to help children grow and thrive in today's world.
Mrs. Arathi Jairaj Shetty
Mrs. Arathi Jairaj Shetty
Mrs. Arathi is IPA UAE family's most senior and hard-working teacher. She has done her MA in History.  But teaching has always been her passion.
She was a lecturer in Govt. Jr College, Munial for 2 years (1993-1994) and then moved to Dubai in the year 2000.Her passion to teach little children grew day by day. Hence, along with Mrs. Mangala Shetty, our managing director, she started her journey as an abacus teacher in the year 2007. She now has 14 years of experience as an Abacus Teacher making her one of our most seasoned teachers !Her Goal has always been to make every Abacus student an Abacus graduate. And to make this possible, she is extremely dedicated towards her method of teaching and treats every student as her own child.Mrs. Arathi is also a very friendly and loving teacher and all her students love attending her classes!In her free time you will find her reading, playing a sport or listening to music. A true All Rounder expanding her knowledge whenever she finds the time ! This is Mrs Arathi Jairaj Shetty for you !
Dr. Sachita completed her Mbbs in 1988 from JJMC Davangere.
She has 12 years of experience in teaching Abacus. She is very passionate about Maths – Vedic maths. She likes to solve sudokos, Math related quiz and like reading during free time.
After getting the Law Degree from Osmania University,  Kauser started working for an  Income Tax Lawyer and later with a Senior High Court Lawyer. She was busy running between Courts, and had never imagined that in future she will play the role of a Teacher. But, Teacher she became. As a Teacher, channelling young minds in a positive direction, is quite satisfying and brings a feeling of achievement to her.
Mohini Deo is a Senior Teacher at IPA. She completed her BSc (Chemistry) with distinction from Pune University & then did her 'Post Graduation in Computer Applications'.She was selected in the 'All India Banking Examination' , but moved to Dubai after marriage. While teaching students swimming in which she  found a passion, she realised , she loves coaching & being with little angels. She underwent her Abacus training in 2008 & has been teaching all levels of Abacus programmes , since then. In 2021, she expanded her horizon , by attending specialized training for 'Vedic Maths'  & has been conducting classes for the same, in addition to Abacus. Kids love attending her classes as she brings new quizzes & puzzles in every class, stimulating critical thinking & kindling an interest in kids to look forward to every class. 'When you love what you do, the result will automatically be visible' is her motto.
Bindu Rajesh is a post graduate in Zoology. She got acquainted with Abacus when she had enrolled her son in Ideal Play Abacus. When Dr. Atamjyot offered her an opportunity to join the team, Mrs. Bindu being a wise woman grabbed the opportunity with both hands. She is now a proud member of the IPA family since 2013.
She has a cheerful personality and her classes are never dull. In fact she is very friendly with both her students as well as with their parents.
She is also a voracious reader and a commendable cook.
Suprita is a Service-oriented teacher with 10 years' background in educational environment. Core competencies include experience of working with children, the ability to build good relationships with children, teachers, parents and  and a basic understanding of how children develop and learn as well as excellent communication and time management skills. She handles tasks with accuracy and efficiency. Her Education- Bachelor of Commerce. Diploma in teacher's Education from University of Mumbai (2010), Pune University (2014) Experience As a Teacher: Janata Welfare English High School (2 Yrs.): Mumbai, India As a Teacher: Indian Education Society (Tata Vidyalaya Bhira) (1 yr.): Raigad India As a Teacher: Sarasvati Vidya Mandir (1 yr.): Mumbai, India As an Abacus Teacher: Brainpower Talent Development Center(2 yr.) Currently working with IDEAL PLAY ABACUS.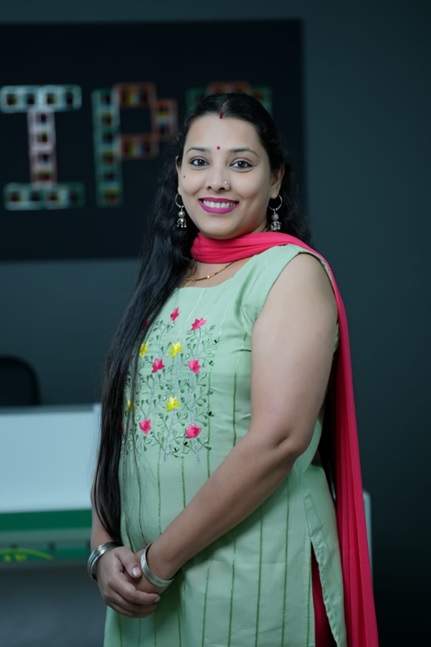 Mary is a KHDA approved certified assistant teacher. She bring years of experience to the table with a varied background in health, hospitality, administration and education.
She started her career in aviation & hospitality, further to get certified for the skills she learnt eventually. She possess great knowledge in personality development, yoga training, and business development. She is very well trained in abacus, vedic mathematics, handwriting skills and dance as an art form.
Asma Shahida have persued MA in English and Bachelor in Education from Mangalore University,India.Inspired by her English Teacher at school who touched her life for better, she chose to be a teacher herself so that she too can touch hearts and change lives for better. She is very passionate about teaching and imparting knowledge to little kids. She loves teaching and being around students as she too gets to be childish with them. She believes teaching is a profession which keeps you young and cheerful always.
 She has worked as an English teacher at CBSE schools for 5 years in Mangalore, Karnataka, India. During her high school, she had learnt Abacus. As she was looking for job in U.A.E. and when she got an opportunity to be trained, then teach Abacus, Handwriting & Vedic Math, she was thrilled as both Abacus, Handwriting & Vedic math are super interesting. All she wishes is every student she teaches should learn well and Excel in life for better.
Archana is an exceptional teacher with a passion for helping children succeed. With a master's degree in microbiology and expertise in Abacus and handwriting, she brings a wealth of knowledge to her classroom. Archana believes in making math fun and tailors her teaching approach to suit each student's unique learning style. Her warm and approachable personality has earned her the admiration of both students and parents. Archana's dedication to her work is evident in the extra-curricular activities, camps, and workshops she conducts. She is highly sought after for her ability to connect with students, and her passion for teaching and love for her students make her an invaluable member of the IDEAL PLAY ABACUS team.
Samayna Khan is our team's latest addition.
She has studied Mathematics and Computer Science. After which, she founded an interior fit-out company with her father. She has been working in the interiors field for the past 10 years.
Even though she's been working in a different field after graduation, her love for mathematics never faded. That's when she was introduced to Abacus by Mrs. Atamjyot and the rest is history.
Currently, she's teaching at the DIP Branch with Mrs. Atamjyot.
For her, the interaction with young, vibrant and cheerful kids takes away from the stress of everyday life.